TOP
>
最新ニュース
> ニュース記事
【ニュース】
Kaspersky Anti-Spam 3.0製品説明(英文)
Status: beta1
Release Plan: June 2006
Demo Status: online @ http://dev4.kljtech.com
KLJTech Customize: KLJTech Baesyan & Japanese filter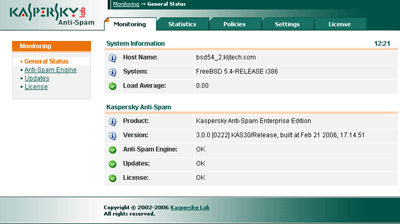 Products:
Kaspersky Anti-Spam Version 3.0 protects mail system users from unsolicited mass mail (e.g., spam).
Kaspersky Anti-Spam uses administrator-defined rules to process incoming messages. Namely, it delivers a message without modification, blocks it, generates a notification when a message is undeliverable, adds or modifies message headers and performs other actions specified by the administrator.
The application checks each email message for characteristics common in spam.
Filtering:
- First, it checks various message parameters including the sender's and recipient's addresses, message size and headers (including the To and From fields). Furthermore, the application runs the following checks as a part of its analysis:
the sender's address (email and / or IP address) are checked against black and white lists;

the presence of the sender's IP address in a DNS-based real-time black hole list (DNSBL);

the availability of a DNS record for the sending server (reverse DNS lookup);

a check of the sender's IP address for compliance with the list of addresses allowed for a domain based on the Sender Policy Framework (SPF);

a check of addresses and links to sites in the message text using the Spam URL Realtime Blocklists (SURBL) service.

- Second, the application employs content filtration, i.e., it analyzes the actual message contents (including the Subject header) and any attached files. The product uses linguistic algorithms based on a comparison with sample messages and a search for typical terms in the message (e.g., words and/or word combinations) characateristic of spam.

- Third, Kaspersky Anti-Spam also scans attached images comparing them to the signatures of known spam messages. These results are also taken into account when the application decides whether a message should be identified as spam.

Messages with certain signs of unsolicited mail will be processed in accordance with the defined filtration policy.

The administrator can configure the applicable filtration policy using the web-based Control Center interface.

What's new in Version 3.0?
---------------------------
Kaspersky Anti-Spam Version 3.0 preserves all of the advantages of the previous version and features a number of improvements and additions:
A new version of the Spamtest? filtering engine. The new filtering engine included in Kaspersky Anti-Spam 3.0 offers the following benefits:

Improved performance and stability

Lower RAM requirements

Smaller updates to the content filtration databases resulting in less web traffic.

Improved filtration methods. Nearly all of the spam detection methods employed in earlier versions have been improved, namely:
Improved algorithms used for parsing of HTML objects in mail messages (which increases the efficiency of detecting various spammer tricks meant to circumvent filtration systems).

An extended and improved subsystem that analyzes the headers of mail messages.

An enhanced subsystem that analyzes graphic attachments (GSG).

Added support for the use of Sender Policy Framework (SPF) and Spam URL
Real-time Blccklists (SURBL) services.
An new user interface. Kaspersky Anti-Spam Version 3.0 uses Control Center, which allows you to perform the following operations:

Configure product settings -- that is, filtering rules, message actions, performance parameters, etc.

Manage the licenses to use the product -- e.g., install license keys, view information about the current license, etc.

Monitor product activity and view statistical data.
Convenient configuration of filtration settings. Version 3.0 uses the easy to use Control Center interface to customize filtration policies, which allows for:

Easy administration: the convenient interface relies upon a minimum toolset for system administration while providing many ways to customize the system to a specific environment.

Individual settings for user groups: certain scanning methods can be enabled/disabled individually for every group. The system administrator can also define the actions to be performed over email messages.
Enhanced tools for integration and customization of the application infrastructure:

Redesigned and improved modules for interaction with email systems such as Sendmail and Communigate Pro.

A new system has been designed for the delivery of updates to the content filtration databases.


----------------------------------------
For the normal operation of Kaspersky Anti-Spam are as follows:

HARDWARE:
---------

Intel Pentium III 500 MHz processor or higher.

At least 256 MB of available RAM.

OS:
---

One of the following operating systems:

Red Hat Linux 9.0

Red Hat Fedora Core 3

Red Hat Enterprise Linux Advanced Server 3

SuSe Linux Enterprise Server 9.0

SuSe Linux Professional 9.2

Mandrake Linux 10.1

Debian GNU/Linux version 3.1

FreeBSD version 4.10

FreeBSD version 5.4

MTA:
-----

One of the following mail systems should be installed:

Sendmail 8.13.5 with Milter API support

Postfix 2.2.2

Qmail 1.03

Exim 4.50

Communigate Pro 4.3.7.

Tool:
-------

The bzip2 and which utilities should be installed.

Perl interpreter.